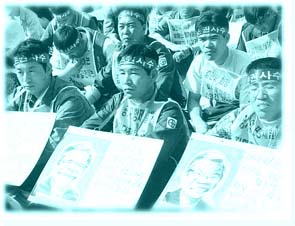 Please send appeals/recommendations immediately to Korean authorities and Posco
expressing concern and alarm to the continued obstinate refusal by Posco to provide employment guarantee to all the workers of the Sammi Steel plant that it had taken over.


calling upon the South Korean authorities(especially, Ministry of Labour) to solve positively Sammi Steel workers' employment unsecurity in accordance with International Labour Organization Employment Policy Convention(ILO Convention No.122 of 15 July 1964) and ILO Convention concerning Employment Promotion and Protection against Unemployment(ILO Convention No.168 of 17 October 1991)


expressing further concern that Posco, bought up the Sammi's reinforced plain steel plant with an intention to layoff Sammi Steel Co.'s workers and maintain its anti-/non- union stance, has been ignored that Sammi's union called for a guarantee of continuity in employment and respect for the integrity of the existing collective bargaining agreement by the new 'management'(Changwon Steel Co., a subsidiary of Posco), violated international standards in a working world and trade unions' rights including trade union's fundamental rights.


Please let us know your materials-related and your opinions if possible.
your trade union's experiences or articles on employment continuity.
a court's ruling text and a central labour relations commission's decisions.
Please also write separate letters your contury's statesmen and leaders of political parties or trade unions.
Ask them specifically to write Korean authorities, including diplomatic representatives of the Republic of Korea accredited to your country, and the president of Posco to urge to strongly support Sammi Steel Co. worker's opinions, please.

What you can help do to Korean steel workers is making a resolution on Sammi Workers' issue at a forum, meeting, conference you participate or will participate in various levels.

You can send us your solidarity letters. And Please Contribute your articles and other writings on a magazine and bulletin.




Appeals to


President Kim Man-je

Pohang Steel Co.


Post-office Box 777, Kang-nam Post Office Seoul, Korea or 892, Dae-chi 4 Dong, Kang-nam Gu, Seoul, Korea



Company


Tel : (82-2) 3457-0114


Fax : (82-2) 3457-1114




Pres. Home


Tel : (82-2) 4357-0001


Fax : (82-2) 3457-1900

President Kim Young-sam

The Blue House


1 Sejong-no, Chongno-gu, Seoul, Republic of Korea


Fax : (822) 770 0253


Telegrams : President Kim, Young-sam, Seoul, South Korea


Salutation : Dear President

Lee Ki-ho Minister of Labour

The Ministry of Labour Affairs


1 Jung-ang Dong, Kwa-chon City, Kyung-gi Provice, Republic of Korea


Tel : (822) 503-9700


Salutation : Dear Minister
---
Please copy appeals and articles to KFMU or IPECK if possible
Korean Federation of Metalworkers' Unions(KFMU)



4th fl. Seongbo Bldg., #82-1, Yang-jae Dong, Seo-cho Gu, Seoul, South Korea


Tel : (822) 579-4977


Fax : (822) 579-9212


e-amil : kmetall@nownuri.net




Task Group for Labor Information(TGLI)



174-6 second floor Jangchung-Dong 2 ga, Jung Gu, Seoul, South Korea


Tel : (822) 285-2138/9


Fax : (822) 275-5890


e-mail : tgli@nownuri.net




International Politics & Economy Center of Korea(IPECK)




65-14 Mia 5 Dong, Kangbuk Gu, Seoul, South Korea


Tel : (822) 986-0025


Fax : (822) 986-0065


e-mail : ipeck@unitel.co.kr

Sammi Steel's trade union emergency committee for a full guarantee of employment continuity





More information
For further information, contact the KCTU-affiliated KFMU or IPECK, a independent solidarity center